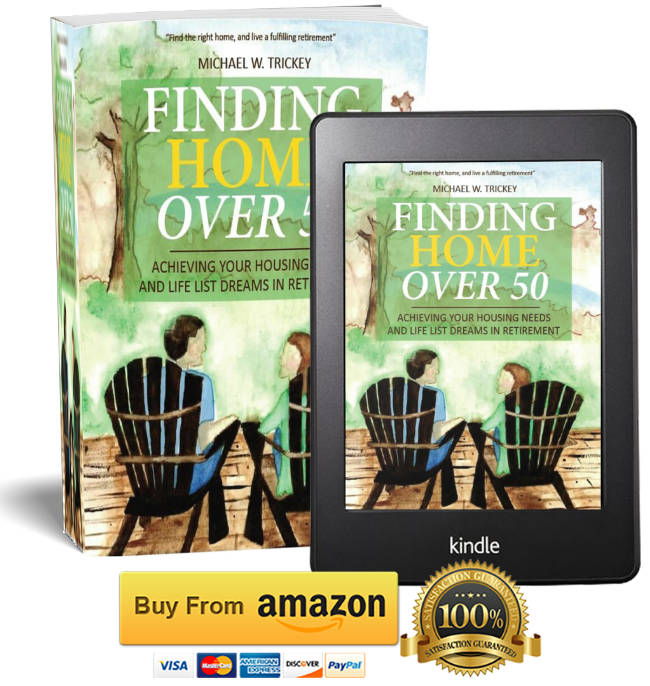 Chapter 7 builds on Chapter 6 and discusses Semi-Independent Living, Assisted Living, and Nursing Care Options.
7-1      Introduction.
At some point you may conclude that independent living is no longer the best choice for you. In this chapter we will discuss facilities with staff and infrastructure to provide varying levels of assistance to you as your needs continue to increase. Table 7-1 below provides a high-level comparison of senior housing options…
7-2     Semi-Independent Living.
You do not have to jump directly from independent living to assisted living; there are options in between that allow you to substantially live independently, but eventually start to receive assistance in the areas where you need help.
7-2-1 Continuing Care Retirement Communities (CCRCs).
You do not have to jump directly from independent living to assisted living; there are options in between that allow you to substantially live independently, but eventually start to receive assistance in the areas where you need help…
7-2-2 Congregate Care Facilities..
Congregate care facilities are a housing option between age-restricted independent living and assisted living facilities. They are intended for seniors at least 62 years of age who can for the most part live independently, but may need a little assistance with activities of daily living (generally one to three ADLs). Care is offered in a congregated setting. Facilities range from small home-like settings with a handful of clustered units to several hundred units in a single building…
7-3      Assisted Living Options.
Assisted living is the term used to describe housing for elderly or disabled people that provides various levels of on-site assistance with ADLs. The two primary assisted living options are assisted living facilities and (smaller) care homes. Each is designed for seniors who are no longer able to safely live on their own but do not require the high level of care provided in a skilled nursing facility…
7-3-1 Assisted Living Facilities.
In assisted living facilities, residents live in an apartment-like setting and arrange for services necessary to accommodate their needs and abilities in order to maintain as much independence as possible. Unlike congregate care, assisted living facilities usually have staff available 24/7 to provide residents assistance with basic and instrumental ADLs and limited medical care..
7-3-2 Care Homes.
Care homes are private homes, with live-in caretakers who offer personalized service to small groups of adults that live together within the home. These homes provide lodging, meal services and assistance with daily living activities, such as laundry, managing medications, and assisting with bathing and dressing. Care homes appeal to seniors who prefer a more private, home-like community…
7-3-3 Memory Care Facilities..
Assisted living facilities, skilled nursing facilities, and sometimes care homes may offer memory care options for people with dementia or Alzheimer's disease. These facilities will offer people who are memory impaired 24-hour support and structured activities to help ensure their safety and quality of life. Many people will choose a memory care option for their affected loved ones due to the difficulty of and skill required for caring for a person with memory problems..
7-3-4 Respite Care..
Respite care provides a temporary break for caregivers, allowing for relief from the daily responsibilities of caregiving. Options for respite care range from adult day care and temporary stays in assisted living facilities and nursing homes, to in-home care and staying with a friend or relative…
7-4      Skilled Nursing Facilities.
Skilled nursing facilities, commonly referred to as nursing homes, provide the highest level of care for older adults outside of a hospital, including assistance in both daily living activities and medical care. They are comprehensively regulated medical facilities…
7-5     The Eden Alternative and THE GREEN HOUSE™ Project.
Assisted living facilities and skilled nursing facilities are sometimes viewed as taking an institutional "one-size-fits-all" approach. Two alternative models for long-term senior care that are focused more on "person-directed care" emphasizing autonomy, dignity, and well-being are the Eden Alternative from the 1990s and a more recent model called THE GREEN HOUSE™ Project.
7-5-1 The Eden Alternative.
The Eden Alternative is an international, non-profit 501(c)3 organization that focuses on partnering with senior facilities to help them change their culture, environment and approach to care to "create a habitat for human beings rather than facilities for the frail and elderly"…
7-5-2 THE GREEN HOUSE™ Project.
THE GREEN HOUSE™ project is an organization that focuses on helping communities, companies and individuals build or convert residential homes into facilities that can provide high levels of care for individuals who do not wish to be in a nursing home setting. Some of the homes are licensed as nursing homes and others as assisted living communities.
7-6      Bibliography for Chapter 7.
Appendix 7-1:  Evaluating Senior Living Communities.
To determine what community is right for you or your loved one, consider both current and future needs. No one can fully predict the future, but you have clues as to how your needs will be changing…
A7.1-1 Initial Checklist to Help You Evaluate Communities.
You can begin your research by talking with family and friends. Do they have any experience, insights, or observations about specific facilities?
Then go online and find properties in the area where you want to be. Various sites provide nationwide directories of senior living communities. You can also search by general community type and by geographic location. For instance, you could search…
A7.1-2 Tour Checklists to Help You Evaluate Communities.
This is going to be your home, so you need to get a good feeling about the community. Start with the curbside appeal and accessibility…
A7.1-3 Follow-up Checklists to Help You Evaluate Communities.
Ask to talk to the community's top executive. Take it as a bad sign if a brief meeting is declined. The quality of the community is a function of the quality of its administration.
Before you leave, you should obtain as many of the following documents as possible. They will help you make a detailed comparison of one community versus another…
Appendix 7-2: Adult Day Care Facility Evaluation Checklist.
Adult day care facilities are distinguished from senior living facilities in that elders do not live in adult day care facilities for extended periods. Elders may come and go on a daily basis, and thus the criteria for judging adult day care facilities differs somewhat from those for judging senior living facilities, although there is some overlap…