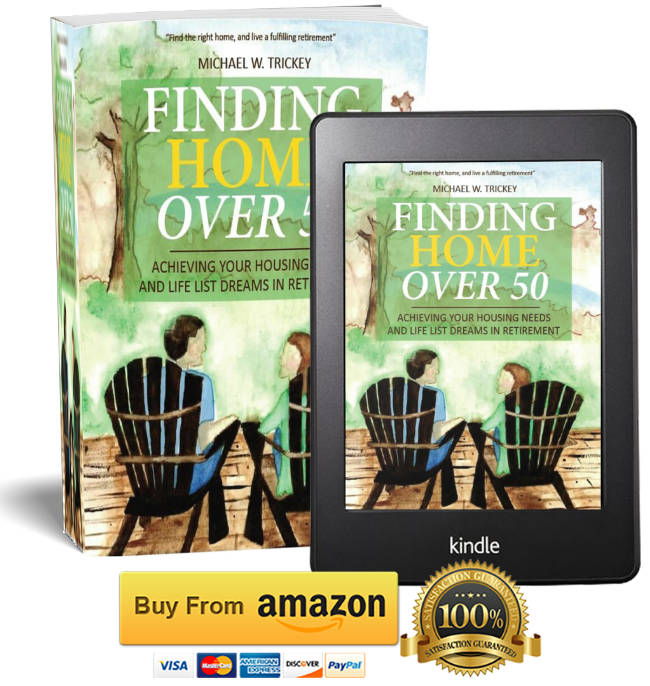 Chapter 9 takes you through your entire home, identifying what can be down in each room as well as outside to make your home more conducive to aging in place.
Aging in place requires planning and preparation. Regardless of whether you stay in your current home or are looking for a new home in which to age in place, you need to anticipate how your needs will change and prepare now for those changes while it is still relatively easy for you to do so.
If you are planning to move to a new home, you will want to find a place that is conducive to aging in place and that can easily be further modified to accommodate your changing needs. If you are planning to stay in your current home, you will need to start thinking about and making modifications now.
With proper planning and preparation, you can extend the amount of time you can age in place in the home of your choice. If necessary, you can later transition
over to some other form of care, whether that is supported family care, nursing home care or something similar.
9-1 Modifying Your Home for Function and Accessibility.
When thinking about aging in place needs, anticipate the potential for both physical and mental impairment in the normal aging process.
Physical impairment involves losing the ability to easily stand, walk or move about, and losing functionality in your hands. To be able to age in place, you will need to be able to get to different areas of your home, avoid having to climb stairs, and avoid having to use much arm strength or fine motor skills to open doors and cabinets. To design for these issues, you will, for instance, need doorways and hallways that are wide enough to allow passage in a wheelchair, chairlifts or an elevator to ease movements between floors, and easy-to-grasp lever hardware on doors.
Mental impairment can come in many forms and degrees of severity. It could be as simple as memory loss, attention deficit, or decreased ability to concentrate. Or it could be more severe, such as Alzheimer's disease or dementia.
Simple mental impairments are addressed with various technologies that assist both you and eventual caregivers. All manner of sensors can be installed, such as ones that indicate when pill bottles or the refrigerator are opened. Smartphone-controlled thermostats, lighting, blinds, and appliances are becoming more common. It is likely many more technologies addressing aging-in-place needs will enter the marketplace in the coming years. For more severe forms of mental impairment, it is probably not safe for you to stay in your home.
9-1-1 In-Home Mobility and Access.
Your ability to effectively move around in your home and gain access to rooms, closets, cabinets, counters and sinks will determine your success and satisfaction with aging in place…Read more.
9-1-2 Lighting and Light Switches.
Lighting is very important for maintaining a safe environment. Low lighting is hard on the eyes and reduces clear vision, which can increase the chance of tripping…Read more.
9-1-3 Sinks and Countertops.
In kitchens, bathrooms, laundry rooms, and other applicable locations, adjust the height and/or location of sinks to suit your needs…Read more.
Most people will replace countertops when remodeling rooms in which counters are located…Read more.
9-1-4 Encompassing the Outdoors.
Proper lighting is essential to prevent accidents, make it easier to see what you are doing, and reduce strain on eyes. Strive to achieve a good mix of artificial light and sunlight. Adding or enlarging windows is a great way to do this…Read more.
Covered entrances, wraparound decks, and planters or container gardens help connect a home to the neighborhood. Done right, they can become natural extensions of the home…Read more.
9-1-5 General Safety.
It is important to have a working phone in the bathroom and bedroom in case you have a need to call for help. It is straightforward to add an extra phone jack; it may require a call to your phone service provider…Read more.
9-1-6 Floorplan.
The rooms you frequent most should be located on the main level of the home. All living areas that you need should be accessible and have ample room to move about…Read more.
9-1-7 Kitchen.
The kitchen should be located on the main level of the home. Key features for the kitchen are discussed …Read more.
9-1-8 Bathrooms.
…Having the toilet at the proper height for the intended user significantly enhances the comfort and safety of a bathroom…
…You can increase safety significantly and economically by installing grab bars in the bathroom…Read more.
9-1-9 Laundry Room.
Doing laundry can be a burden, but even more so as you age and encounter physical limitations. You may prefer to do your own laundry, regardless of your abilities. Your laundry room may currently lack amenities and have limited available space…Read more.
9-1-10 Bedrooms.
As you age, it is best for your bedroom to be located on the main level of your home. It makes for easier access to and from the other primary rooms. If you do not have a bedroom on the main floor, you may want to consider converting an existing room to a bedroom, or building an addition…Read more.
9-1-11 Home Exterior.
Maintaining your home exterior can become increasingly burdensome as you age. You should make improvements to increase the safety and the ease of navigating outdoors and help you get into or out of your home…Read more.
9-1-12 Garage, Carport and Parking.
Some townhomes, condominiums, split level, and multifamily homes have garages, carports, or parking on a basement or street level, with the main living area up one or more floors. Having a garage or parking on the same level as the main floor of your home is a preferable feature for aging in place; it allows for easy access to and from your vehicle…Read more.
9-1-13 Common Areas.
Having accessible and usable common areas should also be a goal when remodeling for aging in place to increase home safety and create a more pleasant home experience for all…Read more.
9-2      Bibliography for Chapter 9.